Philip Terry
Philip Terry was born in Belfast, and is currently Director of Creative Writing at the University of Essex. He is the author of the lipogrammatic novel The Book of Bachelors, and the poetry collections Oulipoems, Oulipoems 2, and Shakespeare's Sonnets. His translations include a version of Dante's Inferno relocated to present-day Essex, and Raymond Queneau's last published book of poetry, Elementary Morality.
Philip Terry's tapestry was shortlisted in 2013 for the Goldsmiths Prize.

His most recent novel, BONE, is published by Grand Iota.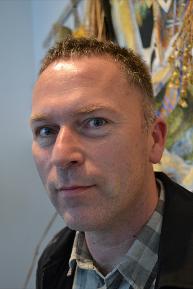 TAPESTRY
Taking as its starting point marginal images in the Bayeux Tapestry, which have been left largely unexplained by historians, Terry retells the story of the Norman Conquest from the point of view of the tapestry's English embroiderers. Combining magic realism and Oulipian techniques, this is a tour de force of narrative and language which alters our conceptions of both mediaeval history and the story behind the Bayeux Tapestry.
Download an extract from tapestry as a pdf
Review by Nicholas Lezard in The Guardian
A review in Hastings Online Times

"This strange novel about the nuns who made the Bayeux Tapestry and the stories they tell each other as they do so and secretly include in its margins, owes something to Calvino and Queneau, though its weird language, a strange mixture of faux medievalism with sudden hilarious lurches into present-day idiom, is entirely Terry's. And it works, making us think again about the close connection of art and propaganda at the same time as it slyly inverts the language of propaganda and teaches us to read slowly. One of the oddest and most delightful books I have read in a long time." – Gabriel Josipovici

2013, 978-1-874400-62-2, 242pp, price (was £10.50) £8.50