Ken Edwards
Ken Edwards is the editor and publisher of Reality Street. In addition to his own Reality Street books, he has had numerous books of poetry and prose published by other presses.
Born in Gibraltar, came to Britain in his teens, studied at King's College London. Spent 35 years living in London and working mostly as a journalist. Married Elaine in 1999, moved to Hastings in 2004, where he now lives, writes, runs Reality Street, co-runs Grand Iota and plays bass guitar with Afrit Nebula.

Ken's Wikipedia entry is here.
His most recent prose books can be found here, and his Collected Poems is available from Shearsman Books.

Ken's blog can be accessed here (including extended biographical and bibliographical information).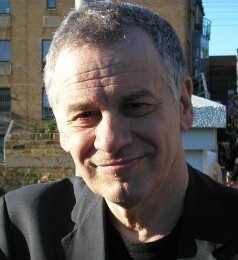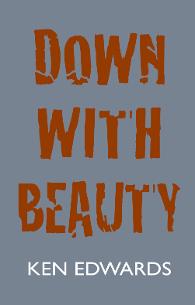 Down With Beauty
In a series of linked dialogues, dramatic monologues and short fictions, the themes of exile, the aftermath of war, paranoia, improvised music and nothingness are explored. The collection is completed with the full text of Nostalgia for Unknown Cities (see below), previously published separately.
"Like glassy-eyed screen junkies, casual consumers of language ... often ignore the reach and density of the technology that so entirely enthralls them. Not so for readers who engage with the disturbing elegance of Ken Edwards' elegiac Down With Beauty. Beckett meets Coltrane, Bo Diddley meets Satie, the Sex Pistols meet Swift - the prose at once shimmers and infuriates, engages and intimidates...." – Joseph Dewey, Review of Contemporary Fiction
Review by Andy Brown in Stride Magazine
Review by Richard Parker in Shearsman Review

Sections are readable online as follows:
Us and Them (posted at Douglas Messerli's EXPLORINGfictions)
Soldiers (in Golden Handcuffs Review)
Nothing Doing (in Vlak 2, pp101ff)
In Gondwanaland (in Black Market Review 2)
Epilogue: In the House of Exile (in Gangway issue 40 "Expatriations")
Read an extract from Nostalgia for Unknown Cities here.
A response by Brian Marley to Nostalgia for Unknown Cities
"Edwards' sentences describe – and yet refuse to describe – with a simple and consistent beauty" – A D Jameson, Review of Contemporary Fiction
And read Paul A Green's extended essay on Nostalgia.
"...hypnagogic derangement as the urban dream dissolves before our eyes."- Iain Sinclair, The Observer
"Really a great sustained resilient and berserk piece of work." - Fanny Howe

2013, 978-1-874400-61-5, 240pp, price (was £10.50) £8.50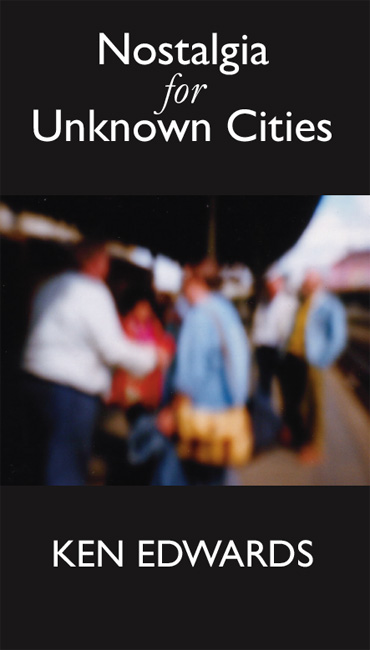 Nostalgia for Unknown Cities
The unnamed protagonist of this anti-narrative compares the city of his birth to a dream he later awakens from, "located in the realm of dreams that bears no obvious resemblance to any actual city that may exist or might have existed". He goes on to catalogue, obsessively, his real and imagined experiences in a succession of real and imaginary cities. This book is now out of print, but the full text has been incorporated into Down With Beauty (above).
2007, 978-1-874400-40-0, 110pp

, O/P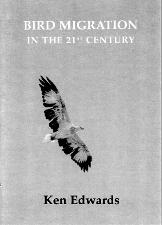 Bird Migration in the 21st Century
A collection of three poetic sequences: the title set, followed by "The Cats of Chora Sfakion" and "His Window Settles". The first and third are further out-takes from Glissando Curve. This 48pp pamphlet from the elusive Spectacular Diseases imprint has been hard to get, but Reality Street has some copies at £4.
2006 – published by Spectacular Diseases (Peterborough) and available through Reality Street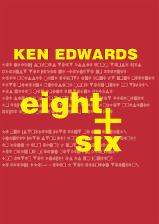 eight + six
An integrated sequence of 98 personal poems.
"Like Ted Berrigan before him, Edwards has written sonnets that actualise the blur between reading, remembering, perceiving and thinking, by collage (or perhaps I should say by assemblage – you can glue in lines from a Wyatt poem, or from a lecture by Hejinian, but can't you glue in a conversation or how you observed a man "up to his wrists in engine" – you have to stand these next to the others.)" – James Wilkes, Intercapillary Space
"These wild and virtuoso sonnets undermine the usual volta to produce amazing and unique constellations". – Marjorie Perloff
2003, 1-874400-25-3, 112pp, O/P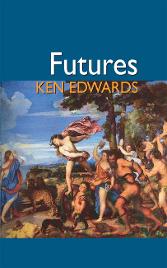 Futures
Ken Edwards' first published novel was reissued in 2010 under a new cover after briefly going out of print.
The narrative traces the paths taken on her bicycle by the protagonist, Eye, across and out of an unnamed city in the wake of an event she can't remember. Her quest is to face her terror and retrieve the fragments of her life, which lie in the future that never quite arrives, until it does.
An extended response by JH Prynne to this book is available online at Golden Handcuffs Review.
1998, 1-874400-13-X, 156pp, price: £9.50 £7