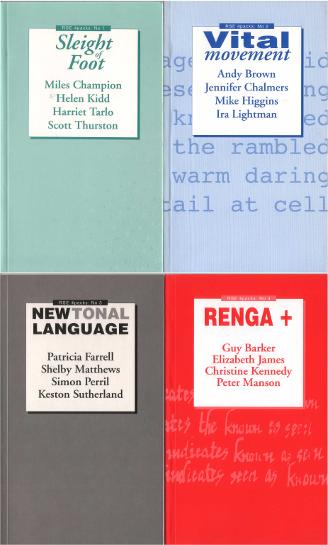 The 4Packs series
Reality Street published a showcase series for new poets between 1996-2002. Each volume featured four poets who had not at the time of commissioning had a substantial book of their own published.
No 1: SLEIGHT OF FOOT
(1996, 1-874400-10-5, 80pp)
Miles Champion: poems
Helen Kidd: The Paper City
Harriet Tarlo: poems
Scott Thurston: two poem sequences

No 2: VITAL MOVEMENT
(1998, 1-874400-14-8, 80pp)
Andy Brown: prose pieces
Jennifer Chalmers: Affording Yellow
Mike Higgins: Rain rain, rain
Ira Lightman: mescrostics & process pieces
No 3: NEW TONAL LANGUAGE
(1999 1-874400-18-0, 80pp)
Patricia Farrell: two sequences
Shelby Matthews: from This Which
Simon Perril: Drawing Attention
Keston Sutherland: A Pow Ode and The Code for Ice

No 4: RENGA +
(2002, 1-874400-19-9, 58pp)
Guy Barker: Hero & Leander
Elizabeth James/Peter Manson: Two Renga, a collaboration
Christine Kennedy: The White Lady's Casket
Funding from London Arts gratefully acknowledged.
The 4Packs series is now OUT OF PRINT.